A.J. Taylor's dabbled in several career paths, but the former University of Wisconsin wide receiver's latest venture "slapped" him in the face. 
There's a backstory to Taylor's new card game, Bankrupt, that's linked to the end of his time in Madison. Taylor finished his UW career with 89 catches for 1,316 yards and 10 touchdowns, but he tore his Achilles tendon during the Badgers' 2019 win at Minnesota, cutting his collegiate career prematurely in missing the Big Ten Championship Game and the Rose Bowl.
Taylor went undrafted in the 2020 NFL event and did not sign as a free agent. He worked out for teams to gain exposure in hopes of securing a contract. He recalled those stays in hotels were lonely, especially with the COVID-19 pandemic ongoing. 
But it also sparked his already creative mind.
"That's when my whole journey started," Taylor said. "So there's a lot of times just not doing anything, and you're kind of like, 'What am I doing?' I know I'm training for the NFL, but I wanted to do something more."
The former Badger branched out into videography and photography work to pay for his training, but he didn't know how to start a business so he continued freelance work. He created a previous competition party game, 'What's Next,' during the time he worked out for teams.
Taylor received positive feedback and started researching how to make a business, and that's when the wheels churned further. 
"I was like, 'Okay, obviously, you need a good idea, or some creativity,'" Taylor said. "And I was like, 'It's gonna be hard work,' and I was like, 'You know what? You need somebody that can handle your taxes.' So you need an accountant, and then you need people to enjoy what it is that you're creating. They need to enjoy your product or service, so you need happy customers."
Taylor was missing one thing, however: capital.
"I don't have any money," Taylor said, "and so while I was trying to brainstorm how to make money, I also thought about, 'OK, well what if I just created something that was a little less cheaper to produce, but you could shuffle it all over the place, and you could play it like that. 
"Just the fact that I was thinking about something a little different, that's when 'Bankrupt' hit me in the face. It just slapped me in the face, and it was like, 'Oh, what if I created a game based on the entrepreneurial journey?'"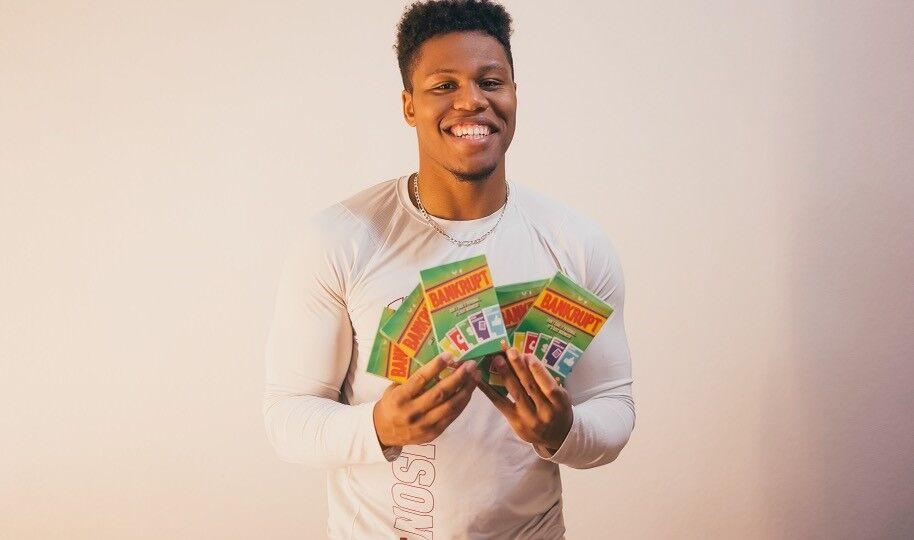 The game itself revolves around collecting the five types of asset cards — creativity, hard work, capital, great accountant and happy customers — while not holding a bankrupt card. The packaging resembles what's seen when opening an UNO deck, with the cards themselves measuring about 2½ inches by 3½ inches. The box notes it takes about 15 minutes to play, can be played between 2-6 people and is intended for ages 8 years or older.
It took about a year from when the idea was conceived to the first delivery of games shipped. Taylor taught at Rockhurst High School in Kansas City, Missouri, where he previously emerged as a four-star prospect by Rivals before signing with UW, and his journey there helped flesh out the product further. 
Taylor listed several checkpoints to overcome during the process from idea to distribution of the product. He finalized the physical aspects, working on Adobe Illustrator to customize dimensions for the box and packaging. He ordered samples of the product for quality control and feedback. 
Taylor also needed to create the business. That included settling on the right name and logo, creating an LLC and registering for sales tax. He also fought an internal aspect to development.
"And I think there's just a mental and emotional side, which is like, 'Can I do this? Is this good enough?'" Taylor said. "And those are necessary checkpoints as well. Getting past the fear of, 'This doesn't really look that good, or this looks really good.' And for me, I did all of the creation, I did all of the art work, I did all of the names.
"So for me, knowing that I did it, there's kind of that little fear and insecurity."
Taylor jumped over those hurdles, and along with receiving further feedback from people who tested it, he took the jump and progressed into production. He invested nearly $5,000, and over $4,000 came in ordering the decks of cards.
"Then I was able to get the games," Taylor said. "I was able to just spend the money for the games, I was able to start figuring out what it's going to take to ship them out to people, deliver the games to people because, not knowing business really, I didn't have a very wise and strategic business plan. 
"I just was like, I want people to play the game, ya know? I just want people to enjoy themselves and have a good time. I didn't really think too much about how I was gonna make that happen. So I'm kind of in that process right now, honestly."
Taylor's entrepreneurial spirit continues as he currently works full-time at Lifted Logic, a full-service digital agency in Kansas City. A communication arts major at UW with an emphasis in TV, radio and film, Taylor told reporters during Rose Bowl availability in December 2019 that he thought about getting into the show business industry. Though still interested in film perhaps down the road, his current path takes him into the world of card games that has an ability to bring people together.
As Taylor continues to dive into how to distribute further outside of his Gambit Games LLC website and a couple of stores currently, the former receiver doesn't view himself as a game creator, per se, but rather as an opportunist.
"I'm just looking for a way to make things competitive. I think that's just who I am," Taylor said. "I like to compete. And if we're not competing, if we're just sitting around, I think it's like, 'OK, let's make some fun out of this.'"