Stunned silence swept through Camp Randall Stadium.
A sense of disbelief coupled with the realization that the University of Wisconsin football team's difficult and at times uninspiring 2018 season wouldn't have a happy ending came over the crowd.
Fans poured through the concourse to the exits on a chilly night as Minnesota poured it on in the second half and bullied a beat-up Badgers squad for a 37-15 win. That ended UW's dominance against its border rival, snapping a 14-game winning streak against the Gophers and giving Minnesota coach P.J. Fleck a signature win as he attempted to establish himself in his second year in the Big Ten Conference.
That day — Nov. 24, 2018 — serves as a line of demarcation. Minnesota was no longer a doormat for UW and the series is tied 2-2 since as the programs meet at 2:30 p.m. Saturday at Camp Randall.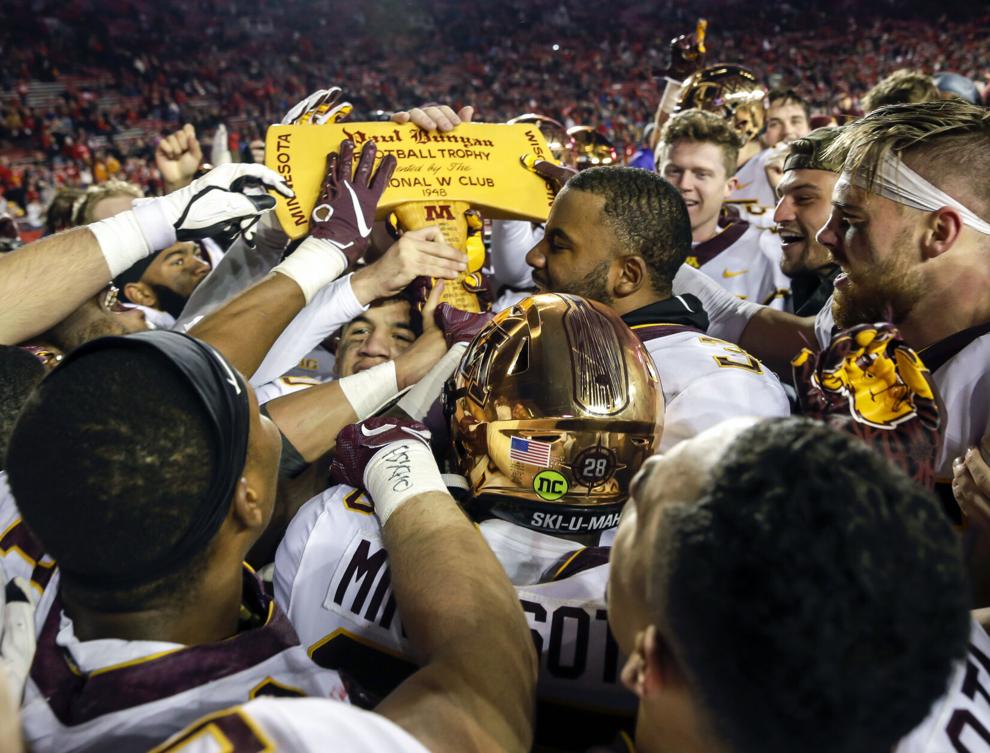 "You just know the records don't matter," UW interim coach Jim Leonhard said of playing the Gophers. "You go in there, it's going to be a physical game. You have to earn it. You got to take it away. And that's the fun part about rivalries to me, is it doesn't matter banged up, healthy, struggling, playing well, go out there and win. Go earn a win. I've always respected this program.
"I don't like them, but I respect them because they have an identity. They know who they are and they're going to force you to beat them, very similar to what we are. So it's going to be (a) fun experience on Saturday. Need to get out of there and earn a win."
But how have the Gophers closed the gap on UW after more than a decade of dominance?
Minnesota's turnaround started up front on offense. The Gophers offensive line is significantly better under Fleck, and with offensive coordinator Kirk Ciarrocca's scheme that's heavy on run-pass options, the line can be moving forward and the offense can attack an opponent at all levels.
Fleck has recruited decently on the O-line, hitting on four-star prospects Daniel Faalele and Curtis Dunlap while bringing in a bevy of three-star recruits. But he attacked the transfer portal to bolster that unit in the past two cycles, which prevented too steep of a drop off from the 2019 offensive line that helped Minnesota win 10 games. Fleck and his staff have put an emphasis on size, pushing the Badgers as one of the biggest offensive lines in the country.
UW has 2.5 sacks per game and 5 tackles for loss per game in the last four meetings.
"They don't really try to hide anything, they're going to run what they run and it's just up to us to stop it," Badgers senior defensive tackle Keeanu Benton said. "I like that aspect of it. And I feel like I can go out there and be more physical than them."
The size of Minnesota's tackles has put a damper on UW's edge rushes, which is where the Badgers excel at generating pressure. Senior C.J. Goetz said the outside linebackers have to find ways to use quickness to win because trying to overpower the Gophers' tackles hasn't worked much.
"Every year, they're very big, very physical, and their scheme, they perfect their scheme," Goetz said. "There's not a whole lot that they do, but what they do, they perfect it. They're moving quick, they know what they're doing, they work well together."
Quarterback Tanner Morgan has played a big part in Minnesota either winning or hanging in the past two matchups.
He threw a pick-six to UW safety Scott Nelson early in last season's matchup, but that would be UW's lone touchdown. Morgan has three turnovers in three career starts against UW. By avoiding the game-changing mistake, Morgan allows Minnesota to play its game and rely on a strong defense and run game. Morgan was injured midway through the game against Nebraska three weeks ago, so quarterback Athan Kaliakmanis — a dual-threat player who can be used in the running game — may start in his place.
"They're very consistent in their approach and how they attack, which really is going to force us into digging deeper into finding what the true differences are based on who the quarterback is," Leonhard said. "But to me, the biggest thing is that experience level. Tanner Morgan's played (a) really long time as well and been very successful in that offense and knows that like the back of his hand. They put the ball in his hands to make a lot of decisions. So if he's the quarterback this week, it definitely changes their aggressiveness and their approach on how they attack us."
Defensive coordinator Joe Rossi has been with Fleck since he arrived in Minneapolis and Rossi's become a hot coaching candidate by producing another good defensive unit this season. Rossi has helped the Gophers limit UW's rushing attack to 145 yards per game since he became defensive coordinator late in 2018. Minnesota bottled up Braelon Allen and the UW run game last season to the tune of 62 yards.
"Definitely (we) saw last year they were just swarming to the ball," Allen said. "Every time I got the ball, I was probably getting tackled by no less than three guys every single play. It was crazy, I had never seen anything like that. We know that going into the game — they're going to swarm to the ball, play fast, play hard, very physical team. So definitely, definitely got to prepare for that."
Minnesota's improved defense, which produced eight NFL draft picks in Rossi's tenure, coincided with the Badgers' offensive line not being as dominant. UW hasn't been able to control the line of scrimmage consistently against the Gophers, and the results show how important that's been.
"They don't shoot themselves in the foot," UW junior quarterback Graham Mertz said. "They're always in the right spot. They play physical. As a quarterback, it's fun because you kind of just (stay) true to your rules and if they throw a different coverage in, different game-specific thing, you can react off of that. But for me these are the fun ones because you kind of know what you're going to get."