You'd better be fast if you want to see how a group of players makes decisions on what the University of Wisconsin football team will look like when it runs onto the field.
Some commercial breaks last longer than their meeting.
"It's like a three-minute conversation," Mertz said.
If Oregon is at the high end of the spectrum of college football uniform option count — Wired once estimated 9,984 — the Badgers are near the other. That's why they turned some heads two weeks ago when they played New Mexico State while wearing red pants, something that hadn't been done in eight years.
The two seasons with Gary Andersen as coach from 2013 to 2014 had the Badgers in red pants occasionally but the more memorable addition was red helmets with a white Motion W logo, a reverse of the usual look that also added a black stripe. UW occasionally wore red pants with a white jersey on the road during the Barry Alvarez coaching era, and Bret Bielema surprised then-athletic director Alvarez with a red-on-red look for the 2007 opener.
"I understand he called us a SWAC (Southwestern Athletic Conference) team on TV," Bielema said two days after that game. "It was a mixed reaction."
Head football equipment manager Jeremy Amundson has to make stocking decisions nearly a year in advance. Jerseys and pants for the 2023 season will be ordered in the next few weeks, he said.
The red pants resurfaced as part of the Badgers' planned two-game series against Notre Dame, originally scheduled for 2020 in Green Bay and 2021 in Chicago. The latter game took place but the 2020 contest was shelved because of the pandemic.
In designs by Under Armour, the uniform and apparel sponsor for both schools, UW was going to wear white tops and bottoms for one game and red-red for the other. The Badgers were in all white last season in Chicago but the Green Bay game now won't happen until 2026.
The pants were still there to be ordered last year.
"I took a shot," Amundson said.
The response from players was overwhelmingly positive, he said. They'll probably be back at some point this season, just not in Saturday's game against Bielema-led Illinois at Camp Randall Stadium.
Allen said Monday that this week's look is the norm for a home game: red jersey and white pants.
There aren't too many decisions for the captains to make, one of the reasons why the weekly meeting is so short.
"We don't have 15,000 uniform combinations," Mertz said. "It's more just face mask, pants, cleats, socks."
The Badgers can swap colors of face masks between red and white but the helmet is always going to be white with a red Motion W. The alternate red helmets weren't a priority for Chryst, Amundson said, so keeping up the expense of a second set of game units — some are in excess of $1,000 each — wasn't worth it.
Putting a different skin on a helmet hasn't become an easy option yet, either. UW did some of its equipment work at Fordham when it played in the Pinstripe Bowl in New York in 2018, and Amundson found out that the Rams had an American flag wrap on their helmets for a game.
An equipment provider told Amundson that getting the new look on was feasible but getting it off wasn't easy.
Under Armour put UW and Northwestern in special uniforms for a game during college football's 150th anniversary in 2019, and the Badgers had the "Forward" uniform from last season's Notre Dame game. Otherwise, pants are the only highly visible change option for the Badgers.
The details can get a little different, however. UW wore white pants for home games against Illinois State and Washington State this season but changed from black socks and red face masks in the opener to white socks and white masks against the Cougars.
"Guys don't come here expecting to get to alter their uniforms a lot," Amundson said. "So when we do something one-off, even if it's minimal like last year's 'Forward' jersey, the kids really enjoy that. So it's nice. It's just not an expectation here."
Allen said he'd like to have some more options but sounded willing to concede a major expansion isn't going to happen.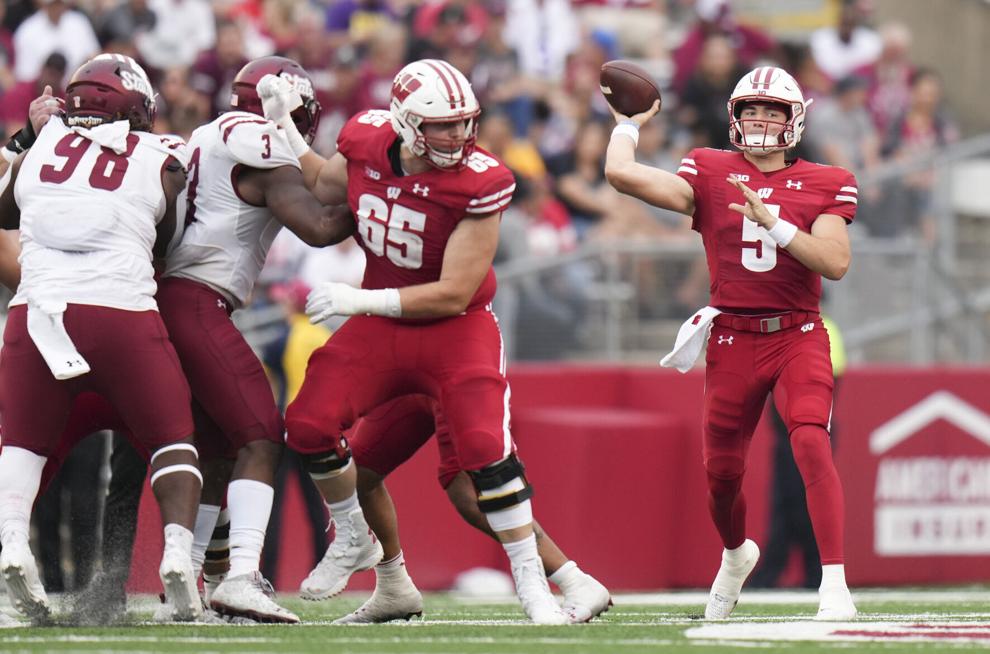 "I think right now we're in a good spot, just throwing in the red pants," he said. "It was helpful being able to switch it up while keeping it traditional."
The captains/jersey judges probably still will be hearing from the running back often over the coming years.
"Brae loves the swag, loves the uniform so he likes to pick it," Mertz said. "But sometimes you've just got to dial it back a little bit. It's more about how you play, it's not about what you're wearing. That's one thing that I've always stood by."
Explore Wisconsin football's uniform options, plus a glance at some old combinations
Home outfit with black socks, 2022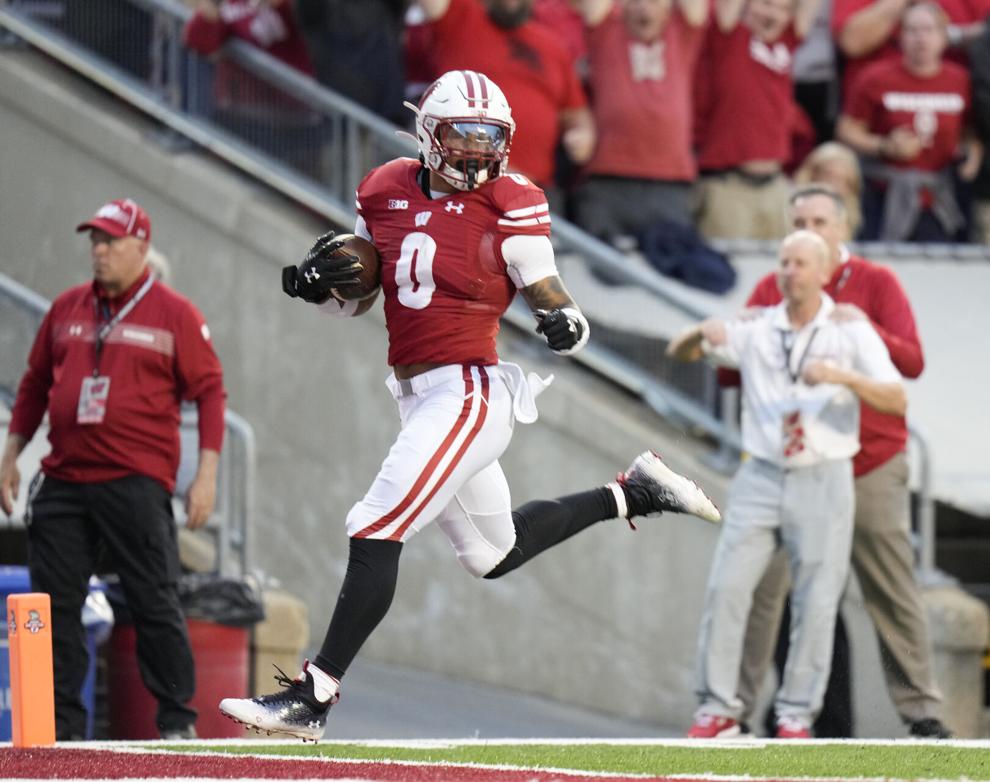 White face masks and socks, 2022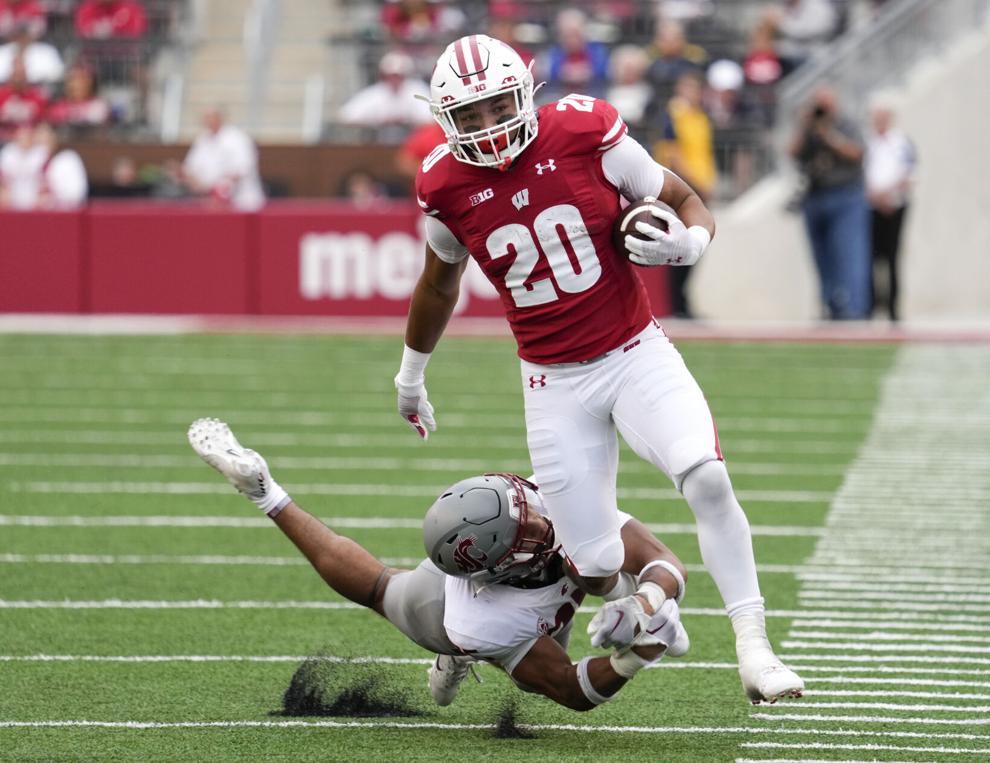 Return of the red, 2022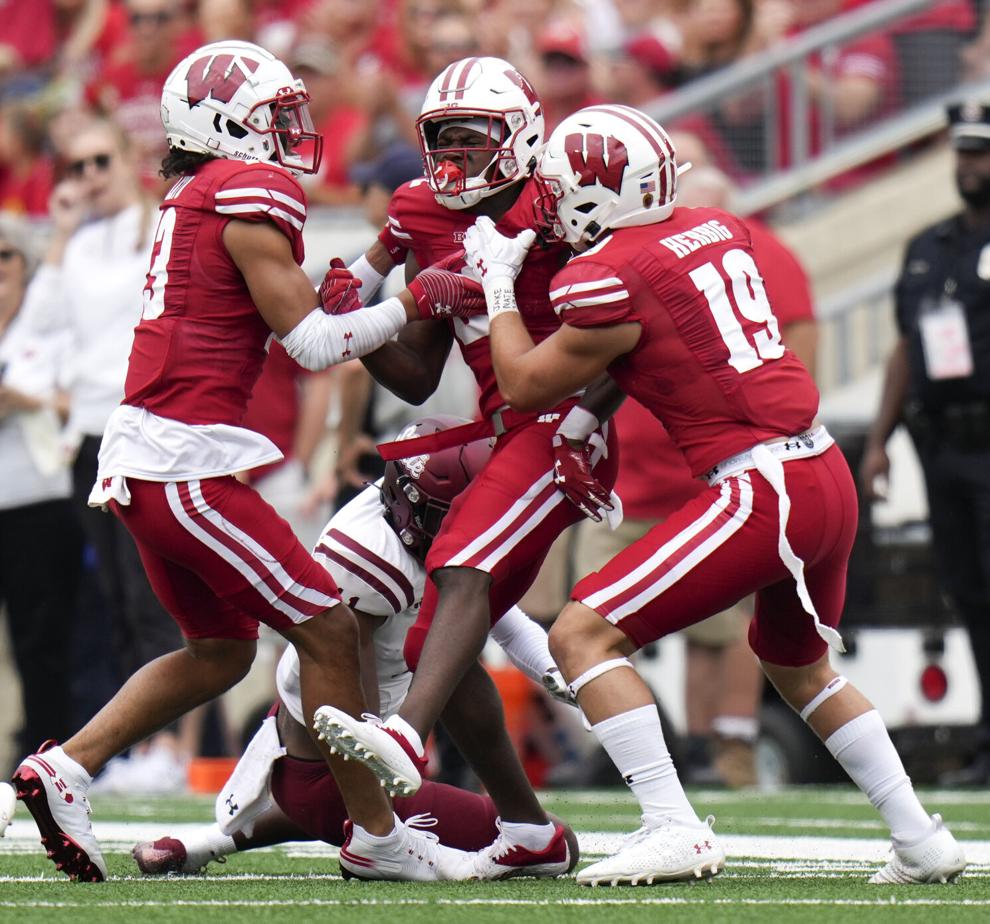 Road look with white accents, 2021
Forward, 2021
Tan pants against Northwestern, 2019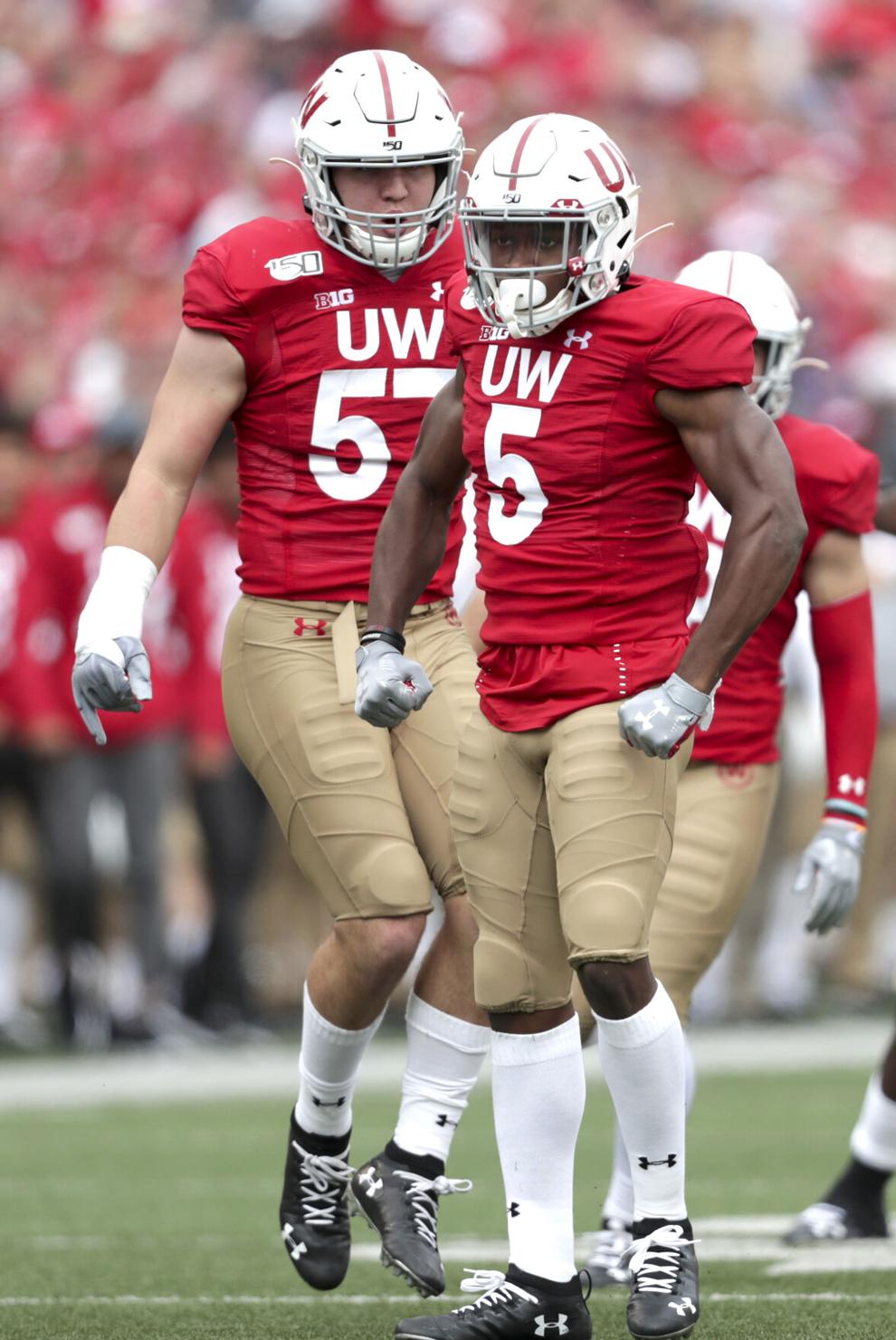 Red pants surprise, 2007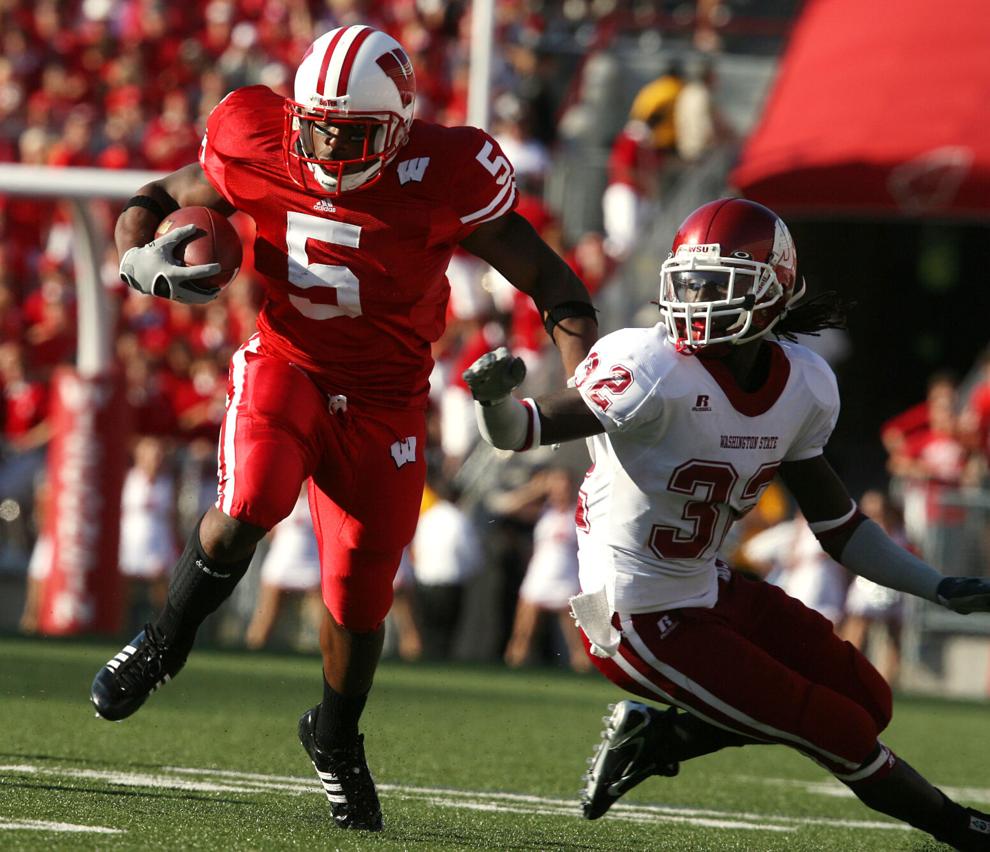 Red on the road, 2005