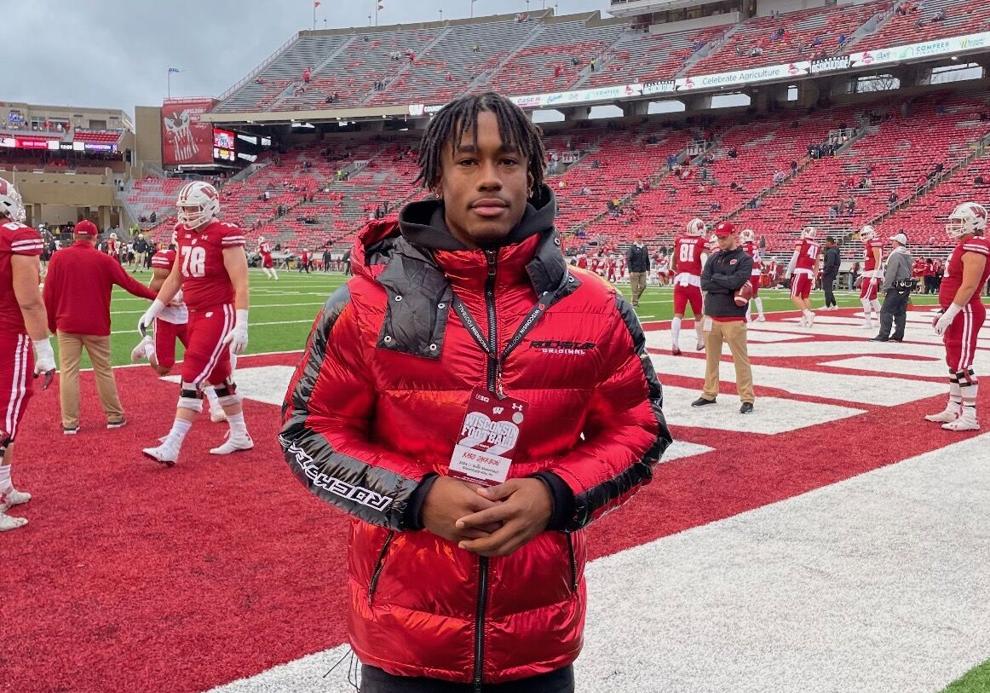 Anelu Lafaele announced an offer from the University of Wisconsin this summer, but he finally got to see the Badgers' defense — and someone he knows well — in person nearly two weeks ago.
"I thought they were on fire. I really like their defense," Lafaele said. "I like their outside backers because that's where I play, and that's where one of my friends plays, Nick Herbig. So I really look up to him as a person, as a player."
Lafaele and another 2024 recruit, Kari Jackson, recently made their first trips to Madison to attend UW's game against Maryland. Lafaele plays at Saint Louis School in Honolulu, the same program that produced current Badgers Herbig and safety Kamo'i Latu.
He said UW currently looks at him as an outside linebacker, and he referenced the team's lineage of production from that group as a reason he decided to take an unofficial visit even with an interim coach in place.
"Just ever since I was growing up, it's just a great program for that linebacker position," Lafaele said. "From (T.J.) Watt, from Herbig, and how they send kids to the league from that position."
Jackson, a four-star projected inside linebacker by Rivals and 247Sports composite rankings, plays at West Bloomfield High School in Michigan.
"That doesn't matter about the current state or what's going on," Jackson said. "People get fired, and people get hired and stuff like that in this college world, so that really doesn't affect anything for me. I know the tradition at Wisconsin as a football program and as a school, and even more in-depth at the linebacker position. So it's a great history and tradition.
"They're producing great linebackers and great football players as a whole at the school. So I knew a lot was going on at the school and things like that, but I know the culture and the foundation of the school is still there to stay."
Jackson met Leonhard during his unofficial visit, and he knows the coach's journey from former All-American at UW to 10-year NFL veteran.
"I wanted to be able to go down there, and I saw the changes and the different things … that he has done already in his time as interim head coach, so I like what he's doing," Jackson said. "I talked to people there. The players, they like him and like what he's doing with the program, and I'm excited to see what happens the rest of this year and obviously going into next year."
Jackson told BadgerExtra the contact with UW started approximately two weeks before he attended the Maryland game, and he texts with UW's coaches at least once or twice a week with a call normally taking place mid to late week. Assistant Mark D'Onofrio and recruiting assistant Billy Lewis have become the main Badgers contacts with the Michigan native, who previously played at IMG Academy in Bradenton, Florida, and the staff projects to play inside linebacker. 
He has visited Cincinnati, Michigan State, Ohio State, Penn State and Tennessee this season, and he loved the environment and his experience in Madison while taking in the campus and coaching staff for the first time.
"I would just say just the fans and the culture that they have there is kind of different," Jackson said. "I just kind of learned more about it, and how their fans have been fans of Wisconsin for a long time. They have a deep fan base and people that have been supporting the school for a while. And I can see that on that Maryland trip. 
"It was rainy, it was windy, it was cold. But all the fans still came out in a lot of numbers. They still came out and supported the team even though it was some bad weather, but they came out and were still cheering them on and stayed the whole entire game for the team. So that's something that was different, especially to see just how diehard the fans were and how invested they were in the program."
Lafaele's recruiting journey has heated up this year. He tweeted offers from Arizona, Arizona State, California, Colorado, Nebraska, Oregon State, San Diego State, UNLV, Utah, UW and Washington State since the spring. He holds 13 in all and said the Huskers, Wildcats, Utes, Aztecs and Badgers are recruiting him the hardest. 
Lafaele, who made the trip with his parents, gave positive marks about his time at UW.
"I thought it was amazing. I really liked it," Lafaele said. "The atmosphere, the people and everything about Wisconsin football is amazing. I like the facilities. I've never seen something like that before because from Hawaii, we don't really have that stuff."
He also was able to connect with Herbig and Latu during his visit.
"They said it's not gonna get any better if you want to play with a family," Lafaele said. "They said I'm not gonna get that anywhere else."
Jackson said he received a scholarship offer during his visit, which brings his offers total to 17. He said Penn State, Ohio State, Cincinnati and UW are recruiting him the hardest. 
"It's really a special place surrounding the area of football in that city and in that state," Jackson said about UW. "So I really like that, and learning more about the history and the tradition of the football team was great to hear and see how many people that actually came through Wisconsin and done big things in the NFL and different football leagues."
Breaking down Badgers commits and key targets
Check out BadgerExtra's breakdowns of 2023 Wisconsin commits, and coming soon, some key recruiting targets in the 2024 class.