The struggles aren't only on the ice for the University of Wisconsin men's hockey team.
The Badgers are on pace for their lowest announced attendance average since they moved to the Kohl Center in 1998. A massive dropoff in season ticket sales after a fourth losing season out of five set up the downturn.
UW has four home games remaining in the 2022-23 season, including two against No. 1 Minnesota on Friday and Saturday that typically are among the best attended.
But they're averaging only 7,556 in announced attendance through 14 home games. The lowest on record in the first 23 seasons they played at the Kohl Center was 8,849 in 2015-16, a season whose echoes are being heard now.
UW fired coach Mike Eaves in 2016 after the team went 12-45-13 in his final two seasons and interest waned. Tony Granato, the program's third-leading goal scorer with an NHL coaching background, took over and delivered a boost in energy and, initially, performance.
But the Badgers are 20-42-3 in two seasons since they won the 2021 Big Ten championship and attendance again has slumped.
Announced attendance doesn't reflect the number of fans in the building, a figure that has been much smaller in recent seasons. That trend appears to have continued as the Badgers have won just 10 of 28 games this season and all but guaranteed a last-place finish in the Big Ten.
Even before this season started, fan discontent was apparent in a 25% drop in season ticket sales compared to the 2021-22 campaign, according to figures released by UW through a public records request.
UW had 7,160 season tickets distributed in a system where the general public has two packages split between the first and second games of series and students have a full-season plan. That was down from 10,145 in 2021-22.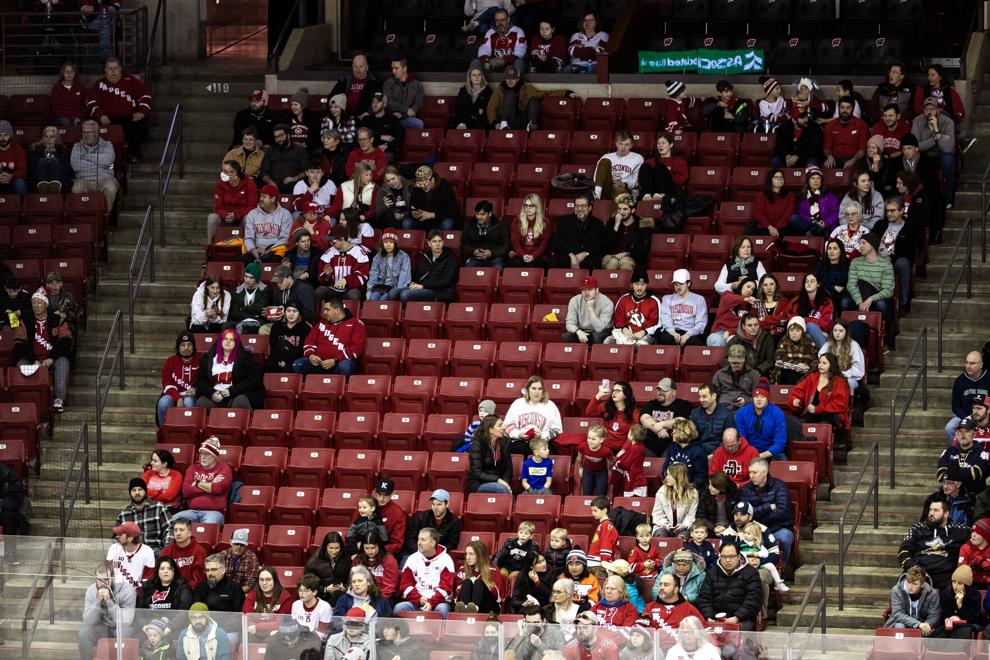 The number of season packages distributed for suites and clubs stays relatively steady each year at just under 650 per game. Sales in other parts of the Kohl Center suffered.
There was a net loss of more than 1,300 general public season tickets between the last two seasons. The Face-Off package, typically the first game of a series, has 2,568 general public season tickets this season (down 14%) and the Slap-Shot package has 3,557 (down 20%).
The percentage drop was larger among students. There are 1,407 full-season packages for students, a 42% cut from 2021-22.
A higher percentage of the season packages are comps — 31% compared to 26% last season.
Those who have attended home games this season have seen the Badgers go 7-7, with three goals scored in an 0-4 start. That doesn't include a 6-1 loss to the U.S. Under-18 Team in an exhibition that was included in the Face-Off package.
UW still is third in the country for NCAA men's hockey attendance behind North Dakota and Minnesota. Only seven teams average 6,000 or more in announced attendance.
It's the dropoff for the Badgers that has been stark. The average announced attendance in 2006-07, the season after UW's last NCAA championship, was 14,430.
UW decided before this season to stop selling tickets for the 300 level at the Kohl Center unless demand required the sections to be open. Some single-game tickets for the upper level were a lower price than others in previous seasons but UW restructured prices to make nonconference games cheaper than those against Big Ten foes.
A contract change last offseason gave the impression that this season was make or break for Granato's future with the Badgers. The cost for UW to buy out the rest of Granato's five-year contract was decreased to $1 million through June. The figure goes up July 1.
UW instead needs to win its last six regular-season games and have Notre Dame lose its last four to avoid a fourth last-place finish in 10 seasons of the Big Ten hockey conference.